Upload
To request a quote, simply upload a drawing.
Specify data
Select the correct quantity and material type of the product to be produced
Price and order
The price is based on the desired delivery time and options selected.
In production
The production process starts after confirmation. Your order will be delivered to the selected address.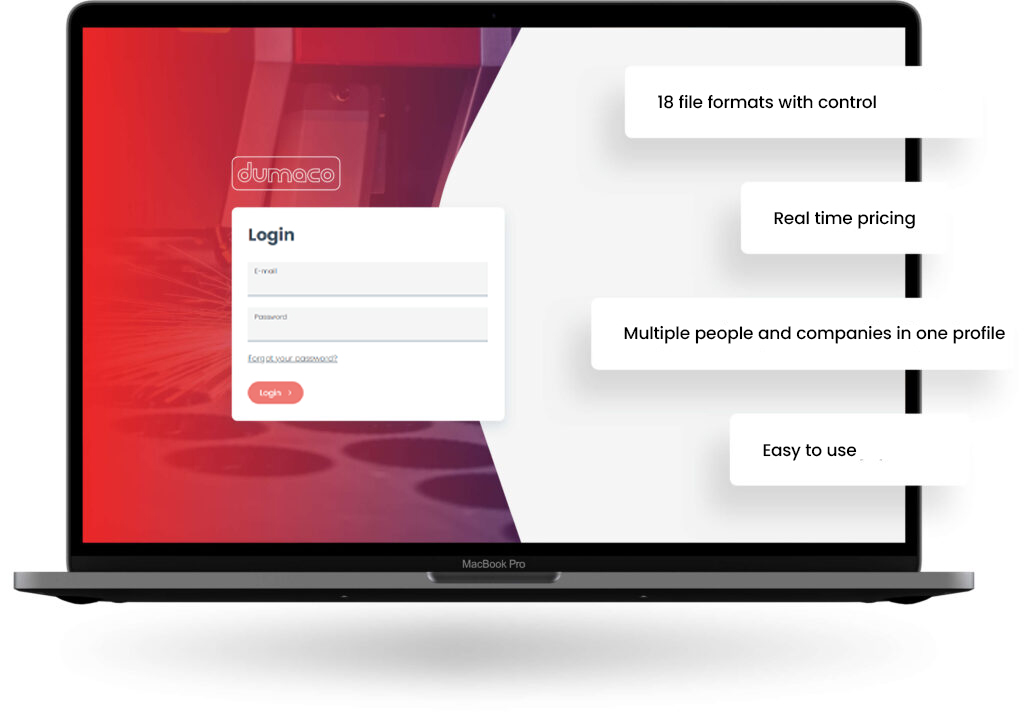 Quickly from upload to output
At Dumaco, we have developed an ordering portal where usability comes first. A simple and clear way of ordering, where you can upload as many as 18 different file formats. After specifying the quantities, material type and thickness, you will immediately see the price. Upon approval, the ordered products go into production. Creating an account takes just a minute and you can also easily add colleagues to order collectively for your company.

We are here for you, but you can also get started without our help. In our accessible knowledge base, we have listed the answers to the most common questions.
Freuently Asked Questions
Do I need an account to place an order?
Yes, you can easily register here.
---
I would also like to request other operations, such as bending or welding. Where can i request it?
We are constantly working to expand our portal. For other operations, please request a quote or contact us. For complex requests, we aim to provide you with a customized quote within 5 business days. Do you have an urgent request? Please contact us immediately. Our dedicated team is at your service!
---
My question is not listed here.
Do you have another question? On this page you will find all the information you need about the portal. We are also available by phone and email to answer your questions.