Punching
Dumaco offers all kinds of sheet-metal processing techniques, including punching and cutting. Our experts at Dumaco Kampen specialize in punching thin sheet metal. Turnaround times are short for both single pieces and series products.
When punching sheet metal, a die-punch tool is used to make holes, shapes or patterns in metal. Dumaco Kampen specializes in thin sheet-metal work. Commonly used materials are (stainless) steel and aluminum but copper and plastic can be punched too.
Our advanced machines
Dumaco has three punch presses. Two of them are semi-automatic and one fully automatic. All these machines are loaded and programmed by professionals, who decide on the best punching method and tools for your specific job. Also, once programmed, our fully-automatic machine can run 24 hours a day unmanned.
The Primapower PunchGenius has a robotized loading and unloading system. This punching and nibbling machine can process up to six tons of material without the intervention of an operator. The copper punching machine is used exclusively to punch copper strips.
Punching
What does punching involve?
Punching has many similarities with laser cutting. Both involve making all kinds of shapes, holes and contours in sheet metal. However, the two metal processing techniques are different. Depending on the customer's wishes or design, Dumaco decides on the most appropriate metal processing technique in the design phase. Read the article 'Metal ponsen versus lasersnijden (Metal punching versus laser cutting)' for more information about the differences between these two metal processing techniques.
Punching is more efficient than laser cutting where large quantities are involved. Punching can be used for a wider range of materials as well. For example, coated materials can be punched but will not be suitable for laser cutting. Punching holes in metal is only possible for thinner sheet-metal thicknesses. For example, thicknesses of no more than 4 mm. If possible, Dumaco will use a punch processing technique for projects with these characteristics.
The advantages of punching
| | |
| --- | --- |
| | Specific applications like louvers and embossing are possible |
---
| | |
| --- | --- |
| | By punching metal, a small round shape is created on the visible side, because of which post-processing like deburring is often not necessary |
---
| | |
| --- | --- |
| | This is more efficient for series work and, because of this, cheaper than laser cutting |
---
| | |
| --- | --- |
| | Processing of pre-painted sheet metal possible |
---
| | |
| --- | --- |
| | Efficient for thin sheet metal up to 4 mm |
---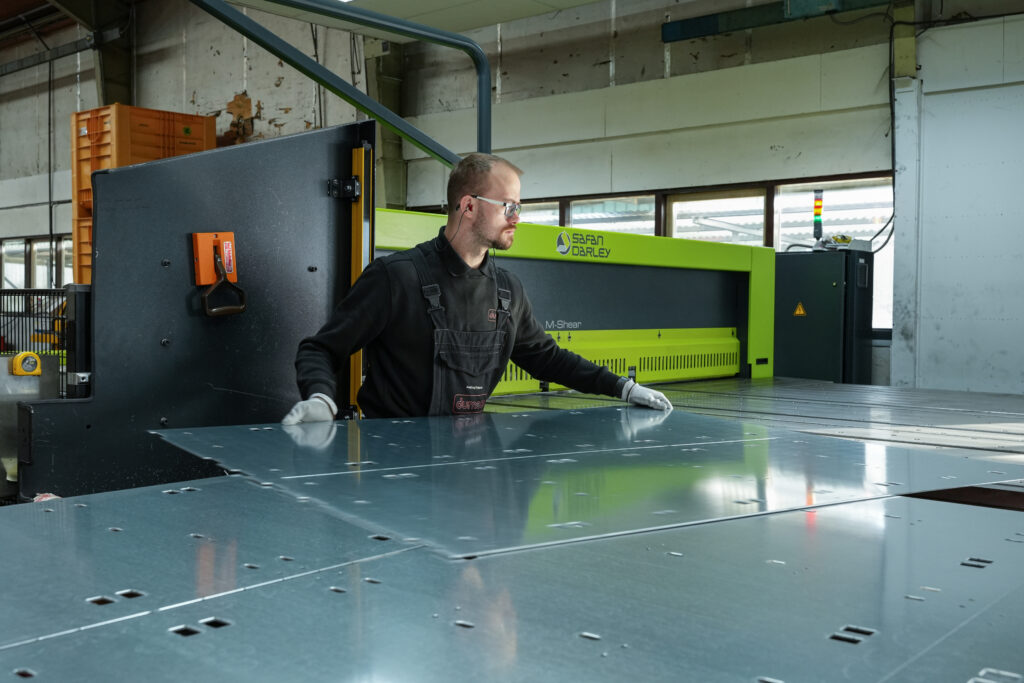 Combined processing: punching and cutting
Punching is usually following by cutting. The sheet metal is cut to the appropriate size and is then ready for further processing, like bending. This processing technique is used extensively for rectangular products and big series. Used in combination with punching, it is a very efficient processing technique.
Applications & markets
Examples of several products that are processed using punching or cutting are grills, road signs and warehouse shelf systems. Both punching and cutting are primarily used for series work. Demand for hole punching and material cutting comes mainly from markets like:
Infrastructure
Interior design
Sanitary
Cutting
The hydraulic cutting of sheet metal is a good basic technique and is often used after hole punching. Cutting is a relatively simple and affordable process. After entering the sizes, the machine cuts the entire sheet automatically and to the correct size. Sheet metal is fed up to the machine guide automatically or by hand.
Our cutting machines:
Can process sheet metal with a thickness up to 5 mm
Cut sheet sizes up to 3000 x 1500 mm (maximum)
Read more
About metal processing at Dumaco